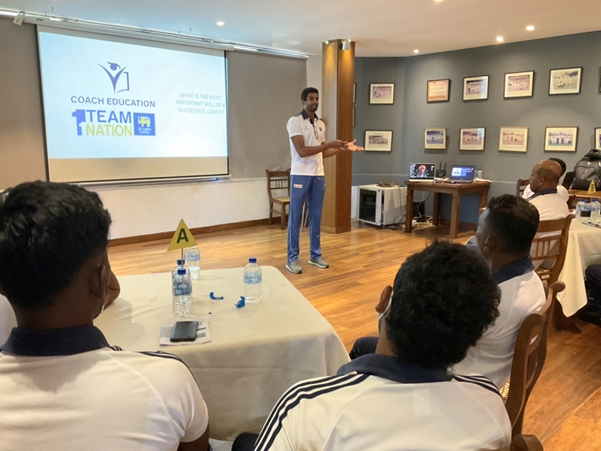 Enrolment & Selection Criteria for SLC Level 3 Coaching Course
Purpose of the Program
Sri Lanka Cricket Level 3 Coaching Course is designed for coaches involved at Elite level of the player pathway, which feed into National Cricket Setup. That is, coaches involved in Domestic first class, Provincial & District and Division 1 Schools structures. The level "3" coaching course aims to develop high-performance coaches with planning and managing skills required for coaching at Elite and international level.
Application Dates: From 12th Jan till 11th February 2022
Course Dates – 1st Residential Phase – May & 2nd Residential Phase – April (next year)
Venue: Super Provincial Centres of Sri Lanka Cricket
Note: Full attendance for both Residential Phases are necessary to complete Level 3 Course
Cost: 350,000/= for candidates – including accommodation, transfers (course related), meals and course materials
Language: The Course is conducted in both Sinhala & English
Number of Participants: Each course is restricted to 20 candidates only
Technology Use: All stages of the program will involve use of latest technology & being conversant in using laptops, tablets & mobiles will accelerate your learning
Eligibility:
Sri Lankan nationals who are currently accredited Level 2 Cricket Coach, with minimum 5 years' experience as a current Level 2 Coach (Preference will be given to SLC level "2" /Cricket Australia Level 2 / ICC Level 2 accredited coaches)
Coaches who are currently working as SLC Provincial Coaches, currently Contracted Premier Club Head Coaches are eligible to apply.
Also coaches who are currently working as SLC District Coaches, Division 1 School Head Coaches will be considered according to available slots.
Those who have represented National Men's or Women's teams with a valid Level "2" accreditation will be considered, if involved with premier club cricket under any coaching capacity.
Valid First Aid course certification.
Degree or a Diploma in Sport related studies will be an additional advantage.
Being conversant in using coaching technology, laptops, tablets & mobiles will be essential.
Police Clearance Certificate must be submitted (Not more than six months old)
Condition of health – Should be physically fit and mentally sound.
Attendance to the SLC conducted education programs and valid coaching licence registered with Coach Education Unit.
Applications to be selected by the Coach Education Unit, Chief Cricket Operating Officer and Head of National Cricket Development.
SLC employs following preference criteria in selecting candidates for Level "3" course:
Contracted Premier Club Head Coaches
SLC Employed Provincial Coaches
National Cricketers (Men & Women) involved with Premier Club Cricket
SLC Employed District Coaches
Division 1 School Head Coaches
Successful participants will receive:
Breakfast & Lunch Buffet including Morning & Evening Snacks together with Tea & mineral water.
Five sets of coaching attire (SLC Education Unit T-shirt & Track Bottom)
SLC branded cap
Brand-new Laptop
Complete stationery pack with an 8GB memory stick
Sri Lanka Cricket branded Duffle bag
Accreditation certificates and Coaching cards will be given for successful participants
Access to all coaching materials in SLC Coach Education App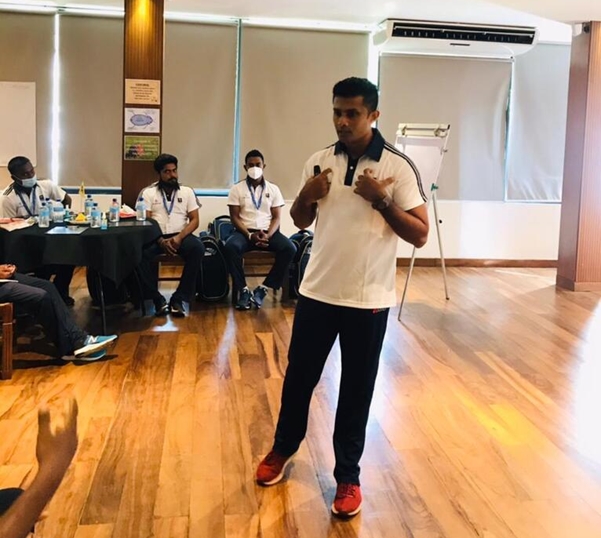 What involves in the Program?
The course will cover Pre- Course work (Online) –Practical work (with Learner Groups) – Post Course Work (Self) – Practical Work (for showcasing required skills)

All applicants are required to sit for an initial paper assessment and interview conducted by High Performance Centre panel (Questionnaire/Evaluations – strictly maintained in order to establish transparency & high standard)
Selected candidates will be required to complete an online pre-course assignment covering main subjects before participating for the first 6-day workshop.
The first 6-day workshop will be held at a super provincial centre (Colombo/ Kandy/ Dambulla/ Southern) covering main subjects
Attendees need to complete a full High-Performance Programme together with other assessments during a 12-month period involving a First-Class Team, applying the learnings from the 6-day workshop.
Second 4-day workshop at a super provincial centre (Colombo/ Kandy/ Dambulla/ Southern)
Successful participants will be awarded SLC level 3 accreditation & will be directed on various High-Performance Coaching Opportunities at the National setup under the guidance of Coach Education Unit.
Accreditation
Each successful candidate who completes the learning process will be accredited by Coach Education Unit – High Performance Centre and Sri Lanka Cricket as a Level 3 High Performance Coach
Accreditation Renewal Process
Coaching accreditation to be renewed every three years from the date of issuance
Evidence for proving continuous coaching delivery during last three years (Service letters)
Evidence of Coaching at National, High-Performance or First-Class Coaching Setup during last three years.
Payment of Rs. 3,000/- together with completed renewal form