Colombo Kings beat Kandy Tuskers in Super Over after thrilling tie
By Srian Obeyesekere
What a down to the wire anointing smasher the inaugural 2020 Lanka Premier League 20-20 day-night contest turned out to be with the game ending in thrilling tie of 219 runs each,and Colombo Kings winning by 4 runs in the Super Over scoring 16 and containing Kandy Tuskers to 12 at the Mahinda Rajapaksa International Stadium at Sooriyawewa, Hambantota. That was after Colombo Kings No.6 batsman Isuru Udana struck 34 off 12 deliveries laced with 4 sixes in pulling his side out of the woods of 167 for 5 in just 3.4 overs remaining to tie the match after they had lost their way from an imposing 131 for 2 in 12.3 overs. Kandy Tuskers, put into bat, made 219 for 3 and Colombo Kings 219 for 7.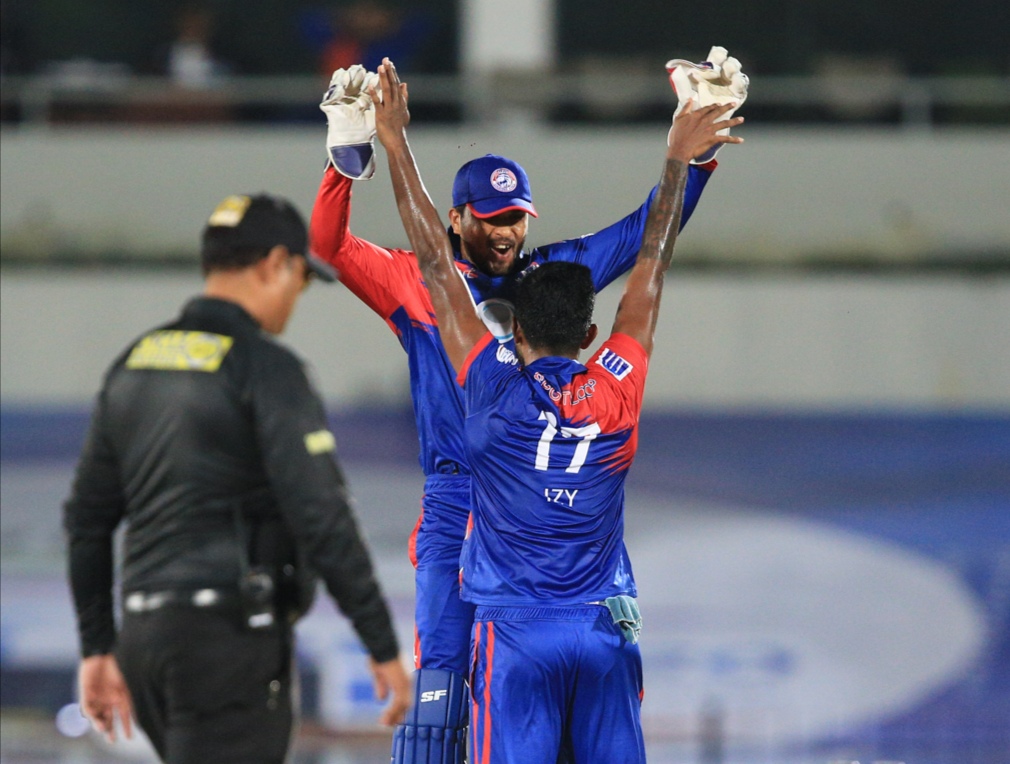 In the ensuing Super Over bowled by Dhammika Prasad, Udana went second ball skiing it to Kusal Mendis after Andre Russel had crossed for a leg bye. But Russel was quick to transform his reputation as a finisher in the Indian Premier League when he belted the third delivery for six over deep square leg having crossed to the striker's end in the previous delivery. He ran a leg bye in the next delivery for skipper Angelo Mathews to clout the penultimate delivery for 4 with 2 runs coming off the final delivery with Colombo Kings settling for 16 in the decisive make or break over.
Indeed, make or break time it was as Kandy Tuskers skipper Kusal Janith Perera and Rahmanullah Gurbaz came out to battle it out in the Super Over bowled by Isuru Udana. It so turned out that Perera's decision to opt for Gurbaz taking first strike misfired with the skipper not getting to face a single delivery and Kandy Tuskers settling for 12 in the crucial over. Gurbaz missed the first delivery but took 4 and 6 in the second and third and no run in the fourth and just a single in the fifth followed by another single in the final delivery. It was the culmination to a perfectly thundering contest between bat and ball in this fast fad form of cricket, and the absolutely desired sating to local and foreign viewers of the live action and overly Sri Lankans could not have for asked for anything better in the LPL's baptism.
Indeed, the historical LPL, the Sri Lankan version of the Indian Premier League kicked off in an ideal fast and furious paced gallop as Kandy Tuskers pummeled 219 for just 3 wickets in the allotted 20 overs after with skipper Kusal Janith Perera pulverizing 87 off 52 balls powered by 9 boundaries and 4 sixes and his opening partner Rahmanullah Gurbaz 53 off 22 packed with 6 boundaries and 4 over the top. The pair blasted 75 runs off 5.4 overs in that run assault.
But if the day looked like belonging to the Kandy Tuskers skipper Kusal Janith Perera who has woven a reputation as a consistent basher of the ball known to take away contests from the opposition, it was not to be as Colombo Kings produced a trump card in Dinesh Chandimal who, opening the innings, smashed 80 off just 46 containing 12 boundaries and 2 sixes in an opening partnership of 64 off 5.2 overs with Laurie Evans who made 22 off 14 with 2 sixes and a boundary. Chandimal's gem of an innings earned him the Player of the Match award.
CHIEF SCORES:
KANDY TUSKERS 219/3 (20 Overs) RR: 10.95
(M.D.K. J. Perera 87, Rahmanullah Gurbaz 53, B.K.G. Mendis 30, D.A.S. Gunaratne n.o. 33. S. Prasanna n.o. 4, M.S. Gony 1/42, Qais Ahmad 1/28, Dushmantha Chameera 1/58)
Fall of wickets: 1-75 (Rahmanullah Gurbaz, 5.4 ov), 2-134 (Kusal Mendis, 12.4 ov), 3-207 (Kusal Perera, 19.1 ov)
Did not bat: I.K. Pathan, N. Pradeep, Naveen-ul-Haq, P.H.K.D. Mendis, L. Embuldeniya,K.Anjula
COLOMBO KINGS 219/7 (20 Overs) RR: 10.95
(L.D. Chandimal 80, L.J. Evans 22, S.T. de Silva 22, I. Udana n.o. 34,
Qais Ahmad 15, M.S. Gony n.o. 0, N. Pradeep 2/34 (4), Naveen-u-Haq 2/40, S. Prasanna 1/6, D.A.S. Gunaratne 1/49)
Fall of wickets: 1-64 (Laurie Evans, 5.2 ov), 2-131 (Dinesh Chandimal, 12.3 ov), 3-131 (Thikshila de Silva, 12.4 ov), 4-134 (Angelo Mathews, 13.4 ov), 5-167 (Ashan Priyanjan, 16.2 ov), 6-167 (Andre Russell, 16.5 ov), 7-215 (Qais Ahmad, 19.4 ov)
Did not bat: P.V.D. Chameera, M.A. Aponso.